The Centers for Disease Control and Prevention report that pet ownership can lead to a multitude of positive effects on one's physical and mental well-being. Physical exercise and playing with a pet can lead to decreases in blood pressure, cholesterol levels, and triglyceride levels. And, a recent study showed that pets have helped their owners cope with the stress of the pandemic lockdown.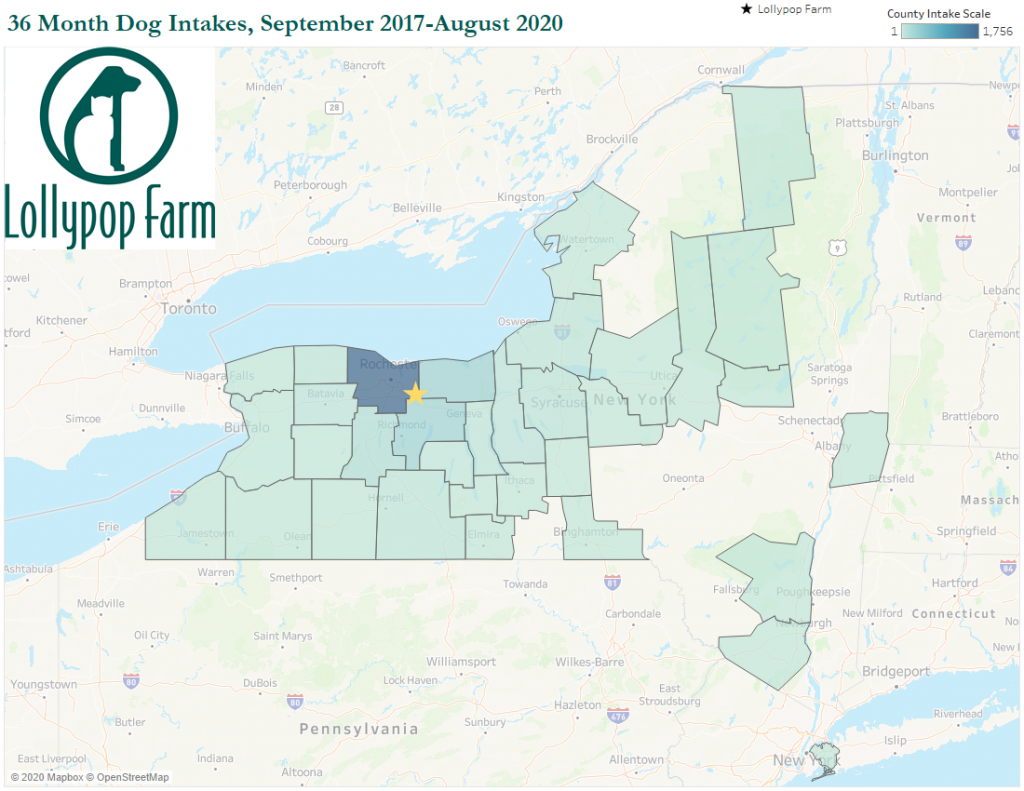 Lollypop Farm provides many pet services for the greater Rochester region, because as much as pets help us, many pets in our community need our help, as well.
The map shows dog intake volume by county for New York State in the past 36 months. While Monroe County had the highest number of intakes (1,756), Lollypop Farm receives animals from more than 50% of all the counties in New York State.
Dogs in need of veterinary services, behavior support, compassionate care, and second chances are brought to Lollypop Farm from the Greater Rochester area and beyond. Providing resources for pet owners facing hardships and challenges helps keep families together and pets in loving homes.
One such story….Venom was a 10-month-old Pug who injured his eye playing with his Husky brother. Unable to afford the cost of surgery for their beloved pet, Venom's family turned to Lollypop Farm for help. The veterinary team at Lollypop Farm helped with Venom's surgery and returned him to his family.  When providing services for pets, like Venom, instead of admitting them to the shelter, Lollypop Farm is able to keep pets with the families who love them and focus efforts on pets in the community with the most need. 

Lollypop Farm, the Humane Society of Greater Rochester and other area animal organizations are great resources for our community and those looking to provide a loving home for an animal. Explore data about mental health and animal-related charities in the RocHealthData map room.
Have a story about how pets help your mental health? Please share with us in the comments below.