The non-profit organization Self Chec provides tools for early disease detection and prevention for a variety of diseases and conditions, including cancers and diabetes. This month, they encourage us to "take a hands-on approach" to physical self-exam and philosophical self-reflection for health.
Sarah Merritt, regional program manager for Promote Health. Prevent Cancer. (PHPC), notes that "food choices are related to lowering one's risk of certain cancers and other chronic diseases."  PHPC, a joint program between the Center for Community Health & Prevention and Wilmot Cancer Institute, offers cancer prevention and risk reduction programming throughout the Western and Central New York regions.
Rates of colon cancer screenings are quite similar by county in the region (around 65% of adults age 50-70), however, these rates are lower than several counties to the east.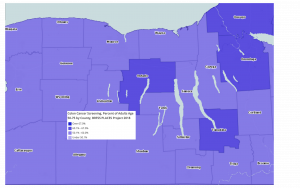 Many kinds of screening data for our region (by county, by census tract, by zip code, and by city) are available in the RocHealthData map room. These data include screening for cervical cancer and obesity, as well as screening for diabetics and mammography rates.