Cervical cancer deaths have declined significantly in the past 40 years, and this decline is directly related to the regular use of the Pap test (or Pap smear) and the human papillomavirus (HPV) test to screen for precancers.
Given the importance of screening to detect these precancers, health experts recommend that women ages 30 and older get a Pap smear every three years or an HPV test every five years. "For those without insurance, the Cancer Services Program of the Finger Lakes region (CSP-FLR) may be able to help," notes Hannah Farley, regional community liaison for CSP-FLR, which is managed and facilitated by the Center for Community Health & Prevention of the University of Rochester Medical Center.
The screening rates for cervical cancer vary by county and within city across our region. More than half the census tracts in Buffalo have rates over 84%, while only 1 census tract in Rochester has such a high percentage of screening.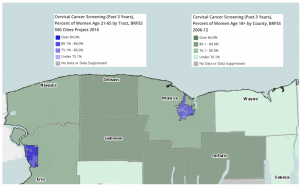 To see more detail about county-specific screening rates, as well as rates by census tracts for upstate cities, visit the RocHealthData map room.