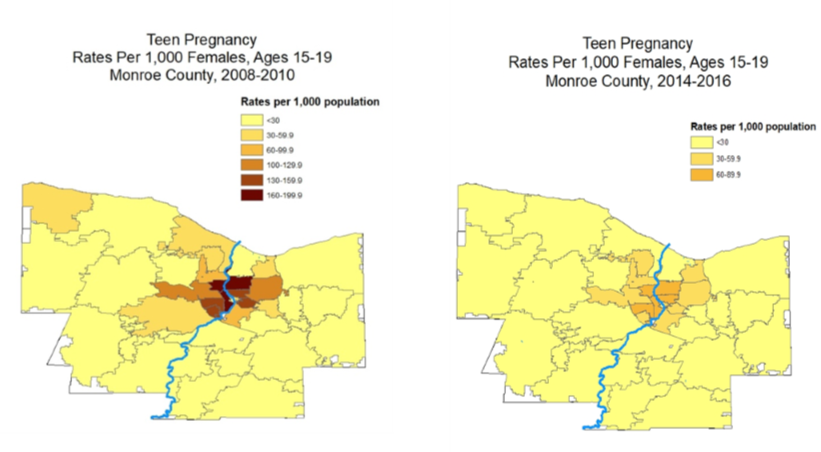 Teen pregnancy and childbearing can have significant social and economic consequences for adolescents, their children and the community. Teen parents obtain less education than their peers (Perper et al., 2010). Children of teen parents are more likely to have more health problems, lower school achievement, be incarcerated at some time during adolescence, give birth as a teenager, and face unemployment as a young adult (Hoffman, 2008).
The number of teen pregnancies in Monroe County declined by 69% between 2008 and 2016, from 1635 to 525 pregnancies. During the same time period, the number of teen births declined by 60% from 865 to 350. Most teen pregnancies and births are among City of Rochester youth.
During this time, significant resources were devoted to addressing this problem.  These included increasing access to reproductive health care (the LARC Initiative), the "Stay True to You" website that provides information on birth control options, and evidence based sexuality education in schools and community (Federally Funded Thrive Program and State funded CAPP Programs). Unfortunately, the Federally Funded Thrive Program will end in June of 2020.
Despite the recent declines, the teen pregnancy rates in many City of Rochester zip codes are still more than two times higher than the rate in NYS as a whole (30/1000). These maps show the improvement in the teen pregnancy rates by zip code, but also show significant disparities remain within Monroe County.
Visit the RocHealthData map room to view these data interactively and layer related variables such as on-time graduation and the percent of female youth not employed and not in school by census tract.
Data Source: NYSDOH Vital Statistics Unit
Vital statistics data from a three-year period are used to create ZIP code based tables of commonly requested perinatal data. Tables for individual counties are provided.